RAPIDOBACKUP is an online data backup solution for professionals that prevents from any data loss risk.
In each case, RAPIDOBACKUP covers every data securing and externalizations need (virtual machines, database included).
2 technologies
to choose from

We offer two services : 100% Cloud or our backup (RAPIDOBOX).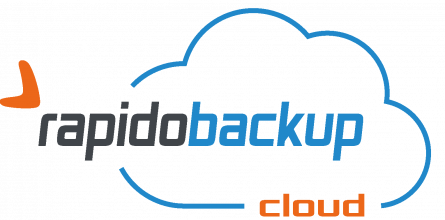 Advantages :
Ultra simple and ultra fast installation and configuration

Subscription amount adjustable to the volume of data to be backed up

Double protection with the free local backup option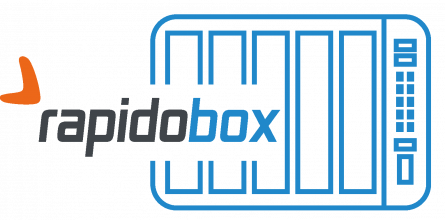 Advantages :
Independence from the Cloud, full control of your data and its backup
Local or remote installation
Fixed subscription amount, regardless of the volume of data saved (within the limit of the storage capacity of the box)
Possibility of a tailor-made installation on your infrastructure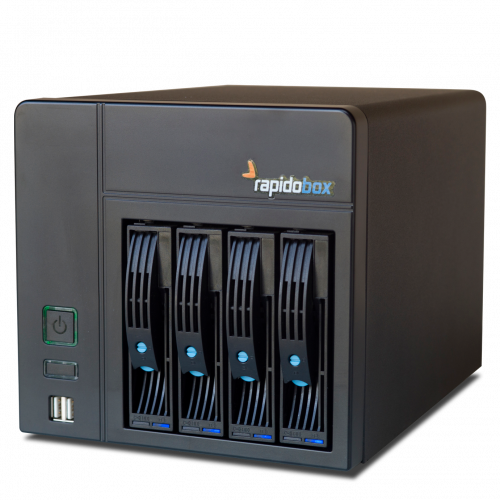 Box 4 hot-swappable SATA disks useful capacity 4 to 48 To
Dim: W 160 mm x H: 180 mm x D: 263 mm Weight: +/- 10 kg variable depending on the disks

mini box SSD fanless – disk 1 up 2 To
Dim : W 13,1 mm x H : 18,3 mm x D : 81 mm Power : 10 watts – Weight : 203 g

In both cases, RAPIDOBACKUP offers the same quality of performance and service:

Total data protection

Unalterable by cryptolockers

Fully automated backups
Data encryption for absolute privacy

Full service of maintenance, assistance

Detailed backup updates and reports, etc.
Technical characteristics
Cloud backup
Backup all your documents in the Cloud with a maximum level of protection and without having constraints or taking risks with traditional support systems
technologies (compression, incremental backup, block mode, deduplication), you can get an extremely quick backup.
Block mode allows to minimize a file's backup to only the modified parts between two successive versions (perfect for databases, virtual machines and emails).

Deduplication allows to save on transferring file's parts already backed up (duplicates or partially identical files).

Compression reduces the size of transferred data, which saves on Internet bandwidth.

Incremental backup only processes files that are new or modified since the last backup
RAPIDOBOX backup



With RAPIDOBOX back up online at a second site or locally
RAPIDOBOX offers the same functionalities, the same level of security, services, ergonomics and performance than the Cloud version. Each RAPIDOBOX can simultaneously receive several backups from different machines; the creation of backup accounts and the sending of reports are done from the same web interface as that used for cloud accounts.
Our boxes are available in different forms :
A box of 4 hot-swappable SATA drives, with a useful capacity of 4 to 48 TB, which can be configured in RAID 1, 5 or 10.

A fanless mini SSD box, with a useful capacity of 1 to 2 TB.

A tailor-made installation on your infrastructure.
Local backup



RAPIDOBACKUP can also backup your data (with Cloud or RAPIDOBox) on hard drive, NAS, USB key at no additional charge. That way, you get a better protection if Internet is unavailable and a quicker restoration.
Hot Backup
Hot backup of all types of files, including virtual machines. RAPIDOBACKUP backups office files, databases, images, Exchange server or virtual disks (vhd, vhdx, vdi), no matter their size or type, individual or network setup.
Smart restoration
During a restoration, RAPIDOBACKUP usually relies on local backup data to restore faster and adjust the files with online backup data (exclusive block level backup technology).
Confidentiality
At no time can the data received be falsified; the data is backed up from the user's computer as blocks in a proprietary format of our software and can only be read with the login, password and encryption key that the user has previously defined.
RAPIDOBACKUP backup encrypted data. The data is always protected from its transfer by SSL encapsulation (banking standard). In addition, the user can choose to encrypt their data before transfer (in 3-DESEDE with 128-bit irreversible key). All you need to do is set a key with an encryption sentence and select the folders or documents that will need to be encrypted. The data will then remain encrypted at all stages of backup, storage, with no possibility of recovery unless the initial encryption sentence is available.
We never know the user's encryption key. The data is encoded before return and stored encrypted. Therefore, they cannot be exploited without the original encryption phrase.
The data centers used by RAPIDOBACKUP meet RGPD standards: https://aws.amazon.com/fr/ compliance/gdpr-center/ and all data is stored in three data centers in the Paris region.
Automatic takeover
After an internet outage, the backup resumes exactly at its stopping point.
Whether they are related to ISPs or equipment, internet outages are still far too common. RAPIDOBACKUP has an automatic recovery mechanism that allows you to continue a backup after a cut. The backup resumes from the partially sent files, even several hours after the outage. The recovery is smart enough to take advantage of the partially sent files, although in the meantime, changes have been made.
Filters



Save only what is essential.
The filter by type excludes certain files based on their extensions (e.g. temporary ".-docx" files, or exchange cache files,.ost, etc.).
The date filter saves "living" files (the newer ones or changed from the set date). Other files can be stored on physical media or archived via the RAPIDOBACKUP Online Archive option.
This filter gives you the advantage of offering a lower cost backup because a limited number of files are taken into account, while automating their selection.
Planning



Decide when the backup will be launched automatically.
You decide how often to save or restore (hours, days, weeks or months). By doing so, you control your internet bandwidth by triggering backups at the right time, out of working hours (for example: one backup during the lunch break and another at night). Of course, at any time, you can launch a manual backup in just two clicks.
Versioning
Keep successive versions of the same file. File history is sometimes just as important as the data it contains. Indeed, it is often necessary to be able to find data deleted or modified by mistake. With RAPIDOBACKUP, you can keep up to 100 versions, which can be set up in the file or folder.
Simplicity
Nothing simpler than color coding to know the status of your saved files:
Green – Updated; Yellow – Old; Red: Deleted.
Supervision
Detailed backup reports are sent daily by e-mail. We often tend to forget it as automatism brings comfort, but safeguarding is a delicate art. The factors that can hinder it are multiple: Firewall, Antivirus, internet problems, etc. Therefore RAPIDOBACKUP implements various means to report any problems, either to the user or to the provider responsible for the backup.
The daily report tracks the activity of all backup accounts.
A red boomerang in the taskbar indicates a backup anomaly.
The local log details the various events of the backup (start/end of task, error, number of files backed up). We do regular analysis of all accounts on our end and will not hesitate to contact you if we detect a recurrent problem.
Cloud accommodation in France



In cloud backup, your data is hosted in France at the world's leading cloud computing company: AWS.

The infrastructure of licensed medical health accommodation is designed and managed in accordance with various regulations, standards and best practices, including: HipAA, SOC 1/SSAE 16/ISAE 3402 (formerly SAS70), SOC 2, SOC 3, PCI DSS, Level 1, ISO 27001, FedRAMPSM, DIACAP and FISMA, ITAR, FIPS 140-2, CSA, MPAA.

Join RAPIDOBACKUP and benefit from the simplicity and flexibility of our partner program.
Extranet Dedicated
You will dispose of a web interface for managing your customers' backup accounts.
Backup reports
You receive a daily report by email which allows you to control the quality of the backup of all your clients' accounts.
Recurring income
By offering online backup, add an offer to your service portfolio and benefit from recurring income.
Support and training
Our services include technical assistance 7 days a week by email and 5 days a week from 9:30 am to 6:00 pm by telephone and remote maintenance, as well as free training.
Test accounts
Benefit from an unlimited number of test accounts to present and install RAPIDOBACKUP.
Marketing
Benefit from our presentation materials, as well as personalized emails intended for your customers.
Providing reliable data backup solutions is part of the advisory role we provide to our Breton clients. With RAPIDOBACKUP, this mission is carried out with simplicity, efficiency and reliability. Simplicity by setting up and managing backups, efficiency by speed in restoring data and reliability by automatic backup and daily reporting by email. All this guarantees our customers a quality of service that allows them to concentrate 100% in their activity in peace. Sylvain GABARRA
We offer RAPIDOBACKUP outsourced backup to all our customers with a maintenance contract. Thus our customers are secure concerning the proper functioning of computer equipment but also and above all on the security of their data. The offer is complete for the customer, and we are much more confident about a possible loss of data. Michel Souris
TSB INFORMATIQUE is an IT services company specializing in the security of VSEs and small SMEs from 1 to 100 workstations. The company is based in Grasse (famous for its painters and its perfumes) in the Alpes Maritimes, and was created in 1990. It is important for us to best secure the vital data of our Customers by taking them out of the Company. Data outsourcing naturally complements local NAS disk backup. RapidoBackup by its advanced configuration meets our technical constraints and our differentiated needs.
On Saturday May 27, 2017, we had to face a cryptolocker that locked all our files, unable to work. We were asked for 2000 USD in bitcoins. The RAPIDOBACKUP online backup allowed us to recover all of our data, we only lost a day of data entry when we could have lost everything. The RAPIDOBACKUP team intervened on a Sunday, Monday morning we were able to work as if nothing had happened. And we didn't pay the 2000 usd!
RAPIDOBACKUP is a French company which has been publishing since 2001 a professional online backup solution for a wide range of companies, administrations and liberal professions, in order to meet the vital need for security and integrity computer data. The RAPIDOBACKUP online solution eliminates the constraint of physical outsourcing of backup media and provides absolute security.
The data is hosted in Europe by the world leader in Cloud Computing, offering the same quality of infrastructure as that previously reserved for large accounts. In addition, data encryption with a unique key ensures that your data cannot be read by third parties even if your login credentials are stolen.
RAPIDOBACKUP offers a global outsourced backup offer, ranging from the implementation of the solution, to training and daily monitoring of the proper execution of backups, guaranteed by our network of partners throughout the country. For those who do not wish to save their data to the Cloud, RAPIDOBACKUP also offers an alternative solution with RAPIDOBOX.
Adress: 84 Rue Charles Laffitte, 92200 Neuilly-sur-Seine, France
Phone: +33 (0)1 47 70 71 72
Monday – Friday 9:30 am to 7:00 pm Saturday – Closed Sunday – Closed